Apartmaji Šimuni 2
... kotiček na otoku Pag, ki ga uvrščajo med najboljših 5 destinacij na Jadranu ...
From 50,00 EUR / night
 Šimuni, Pag island
4 + 1; 2+2; 4+2
 60 m from the sea
On the south side of the island of Pag, halfway between Novalja and the town of Pag lies the village of Šimuni, surrounded by pine and oak forests, and oleander flowers. The inhabitants, about 400 of them living in the village, are mainly engaged in fishing and tourism. In the village, you will find beautiful apartments that are spacious and comfortable. The location will not disappoint you in any way.
Apartments are newly furnished; their surroundings rank among the top 5 destinations on the Croatian coast. They have beautiful beaches, superb cuisine, a lot of sports activities and a famous marina. There are many excursion points nearby to satisfy all your wishes.
The apartments have air conditioning, satellite TV, WI-FI, heating, dishwasher, washing machine, terraces, barbecue on the terrace and all other necessary equipment. They offer a view of the marina just next to the pine forest and a beautiful view of the sea towards the island of Maun. There are four apartments in the house. They are located just 300 meters from the true paradise-looking beach, suitable for children of all ages, which extends as far as 2.5 kilometres. Suitable for young families.
You will not regret it if choosing apartments in Šimuni on the island of Pag for your holidays, as they will make a great impression on you. In the village, there is also a top-notch restaurant and a shop. The sense of the Mediterranean is perfect in this place! Enjoy your life, let the clock stop for a little while …
In the village, you can buy fresh squid and fish daily. Within the apartment, you have a terrace and a large grill for preparing all kinds of Mediterranean delicacies. Šimuni is known as one of the cutest villages on the whole island of Pag. They are known for their good food, and the locals organize one of the best fishing parties around. A boat mooring is available.
There is no cleaning cost if you leave the apartment in a normal clean condition. Pets are allowed by prior agreement.
Apartments available:
apartment A (4+1 persons)
apartment B (2+2 persons)
apartment C in D (both 4+2 persons)
Free in the periods:
2+2 from 1.6. to 17.6. and from 16.8. to 20.9.
4+1 from 24.8. to 20.9.
Apartments 4+2 are available from 1.6. to 20.6.; from 25.6. to 7.7.; from 1.7. to 14.7.; from 16.7. to 1.8.; from 14.8. to 25. 8. 2019.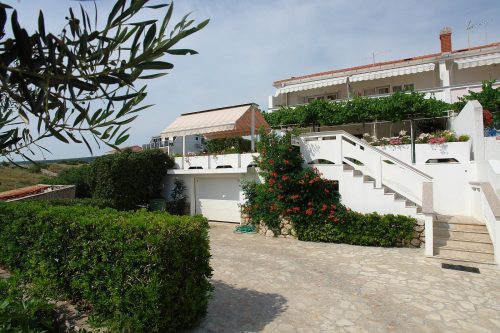 Sorry, no results were found.