PAG Island, the pearl of the Adriatic, the island of Pag cheese and ham, excellent lamb and good wine, beautiful lace, crazy fun, and sandy beaches.
Due to the gravel and sand, which slowly descend to the sea, the beaches are very suitable for children and their carefree play. The beaches Zrče, Straško, Čista, Stara Novalja, Caska, and Šimuni are especially attractive, and offer a wide range of sports and recreational activities, from water sports, tennis to beach volleyball.
Welcome to Pag, the smallest common Croatian island, which has the shape of the moon and where the oldest olives in the world grow.
Search for the hidden corners of the island from the bicycle; numerous cycling trails along and the island allow to do so. The constant presence of the wind offers the ideal conditions for sailing on the water, and the seafloor of the Pag archipelago hides many secrets. It does not matter whether you will visit unique Dalmatian islands and national parks, all you need to do is indulge in the enjoyment of natural beauties, authentic home-made food, and excellent wine.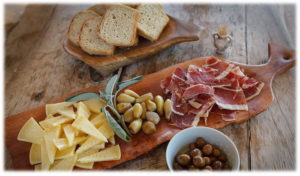 The island of Pag is the fifth largest island in the Adriatic, known for its poor vegetation coverage. Visitors often compare some areas with the surface of the moon. Pag is a long and narrow island that extends along the Velebit channel along the mainland coast. The climate is Mediterranean. Due to its position under the Velebit mountain range, from which strong winds blow through the whole year, the island of Pag is almost entirely covered with salt from the Velebit channel. From here, the famous Pag food products originate, such as Pag cheese, Pag prosciutto, and Pag lamb. The island of Pag is the only Croatian island divided into two counties. The northern part of the island (Novalja) is located in Lika-Senj County, while the southern part of the island (Šimuni, Kolan, Pag, Povljana) belongs to the Zadar County.
We wish to present you the island of Pag, the place where you will be staying, and the accommodation in the most colorful way possible, so you can truly grasp the beauty and richness of the island.