Šimuni 1
When thoughts rest ...
From 70 EUR / day
 Šimuni, Pag island
On the south side of the island of Pag, halfway between Novalja and Pag, lies the village of Šimuni, surrounded by pine and oak forests and flowers of oleander. The inhabitants, about 400 of them living in the village, are mainly engaged in fishing and tourism.
We offer you a beautiful private apartment on a beautiful location. It is newly equipped with luxury equipment. It has air conditioning, LCD TV, WI-FI, heating, dishwasher, washing machine, terrace, a great barbecue on the terrace and all other necessary equipment.
The apartment was built in 2016 and measures 53 m2. It has been rated with 3 stars, and located on the 1st floor of the house, has a balcony overlooking the marina just next to the pine forest. There are only three apartments in the house. Only 250 meters away is a beautiful beach, suitable for children of all ages, which extends in a length of 2.5 kilometers.
Staying in the apartment is also suitable for young families. You will not be disappointed with your holiday in our apartment in Šimuni on the island of Pag. In the village, there is a top-notch restaurant and a shop. The feeling of the Mediterranean is perfect here! Enjoy life for a while and stop a bit … In the village you can also buy fresh squid, fish, … As a tenant, you get your own terrace with a huge barbecue, suitable for preparing all kinds of Mediterranean delicacies.
Šimuni village is one of the cutest villages on the whole island of Pag. Their inhabitants are well-known for their good food and organization of one of the finest fishing festivities around. If you are interested in fishing, contact us and we will advise you on the best place to fish, charter choices and so on.
• Living room with air conditioning and LCD TV (diagonal 123 cm, HRT + SAT programs, HDMI connection, USB), corner seating furniture with an extra bed, vacuum cleaner.
• Kitchen + dining room (induction hob, oven, dishwasher 45 cm, freestanding refrigerator with freezer, microwave oven, toaster, …).
• 2 separate bedrooms (bedroom 1: double bed size 200 x 160 cm with a view of the marina; bedroom 2: bunk beds (above 200 x 90 cm and below 200 x 140 cm), equipped with mosquito nets).
• WC + bathroom with shower, washing machine 45 cm, suitable for people allergies, hair dryer, first aid kit.
Towels and bedding are in the apartment.
• Balcony with dining table with 6 chairs and gas grill Napoleon Rouge 425 SB.
• Free WI-FI.
• Folding transport cart.
• Own parking space.
• Boat mooring will be available soon! The nearest gas station for the vessels is located in the marina in Novalja (7 nm). No cleaning cost is required if you leave the apartment in a normal and clean condition. Pets are allowed by prior arrangement.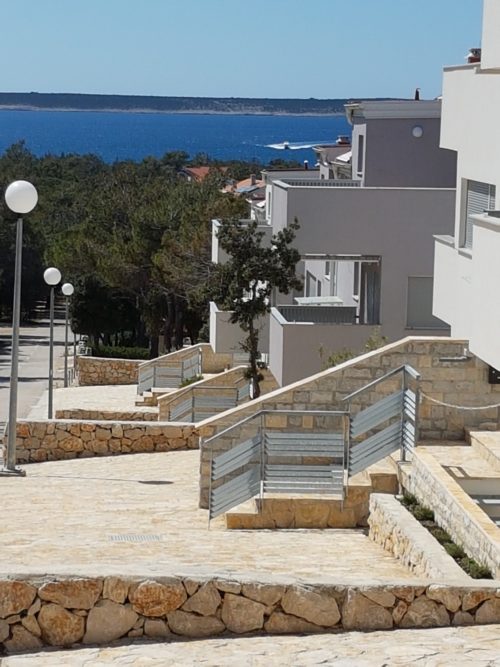 Sorry, no results were found.